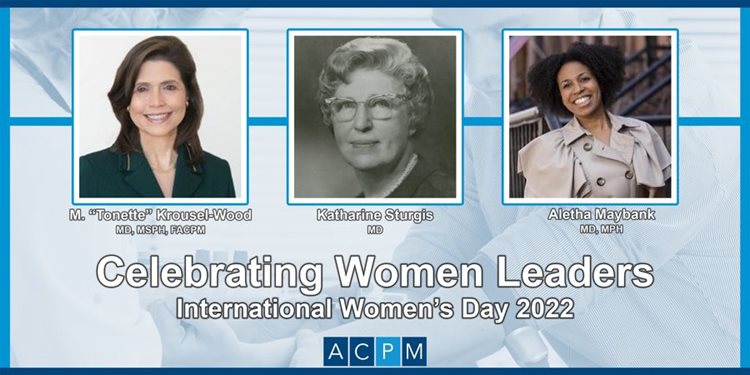 ACPM members work as public health advocates, researchers, and health systems leaders to promote the importance of preventive medicine. On this International Women's Day, ACPM would like to highlight three inspiring women who have been instrumental in forwarding the mission of the College and promoting the importance of the specialty of preventive medicine.
M. "Tonette" Krousel-Wood, MD, MSPH, FACPM
Dr. M. "Tonette" Krousel-Wood is the current president of ACPM. Her research interests include clinical outcomes and health care processes for patients with chronic diseases such as hypertension and diabetes. In her role as associate provost for the health sciences, senior associate dean for faculty affairs, and associate dean for public health and medical education at the Tulane University School of Public Health, she is actively engaged in training the next generation of scientific and academic leaders. She is recognized by her peers for her deep commitment to the science and evidence that informs preventive medicine and lauded for her contributions to positioning the specialty for success into the future.

Aletha Maybank, MD, MPH
Board-certified in both pediatrics and preventive medicine, Dr. Aletha Maybank's areas of expertise include maternal and child health, cancer, HIV/AIDS, community health, and health equity. Dr. Maybank has committed much of her career to recognizing, reconciling, and reforming structural and other forms of racism. In addition to teaching medical and public health students on topics related to health inequities, public health leadership and management, physician advocacy, and community organizing in health, Dr. Maybank is the American Medical Association's first chief health equity officer. In this role, she developed and launched the organization's first equity strategy, including a multi-year roadmap for addressing racial justice, and implemented a comprehensive engagement strategy with external stakeholders. Dr. Maybank spoke in-depth about this work both as the featured presenter during the 2021 ACPM KBS Lecture and as a panelist following the inaugural Dr. Daniel S. Blumenthal Award and Lecture on Health Equity.

Katharine Boucot Sturgis, MD
Born in 1903, Dr. Katharine Boucot Sturgis is a central figure and pioneer in pulmonary research. Early in her career, she took a job directing a mass chest x-ray survey in Pennsylvania, where she was able to study the relationship between diabetes and tuberculosis, lung cancer and smoking, and through this work began to understand that regular screenings were not enough to stop the spread of tuberculosis. This spurred her interest in preventive medicine and work in medical research. Over the course of her career, Dr. Sturgis authored hundreds of publications, and she was the first female president of ACPM as well as the first female chief editor of the American Medical Association's Archives of Environmental Health. The annual Katharine Boucot Sturgis (KBS) Lecture was established by ACPM in 1979 to recognize her outstanding contributions in research, teaching, and service in the field of preventive medicine.

We hope that learning about the careers of these three influential women will inspire on International Women's Day and deliver a sense of pride in being a preventive medicine specialist. If you're interested in learning about more ACPM leaders, click here, and let us know on social media if there are any other women leaders working in preventive medicine who have inspired you.

Back to news listing