The COVID-19 pandemic has exacerbated inequities in care access and service quality for minoritized populations.

More than 39 million people have tested positive for SARS-CoV-2, the virus that causes COVID-19, and there have been more than 648,000 COVID-19-related deaths in the United States alone.[1] Data consistently show that American Indian and Alaska Native, Black, and Hispanic people have experienced disproportionate rates of illness and death due to COVID-19. American Indian and Alaska Native, Black, Hispanic, Native Hawaiian, and Other Pacific Islander in the U.S. had over three times the number of premature excess deaths per 100,000 people in 2020 compared to White or Asian people.


Centering Equity in Crisis Response and Preparedness (CECPR) can be found HERE

Centering Equity in Crisis Response and Preparedness (CECPR) Continuing Medical Education (CME) Course can be found HERE

Physician-Led Care Coordination Practices: Project Overview
Through an award provided by the U.S. Department of Health and Human Services' Centers for Disease Control and Prevention Center for State, Tribal, Local, and Territorial Support, the American College of Preventive Medicine (ACPM) partners with the American Medical Association's Center for Health Equity to create physician-led care coordination pilot projects. These projects are enhancing the capacity of physician-led practices to implement COVID-19 prevention, vaccination, testing, and treatment strategies that improve the health of populations disproportionately impacted by the pandemic, racial injustice, and other forms of oppression.
Project strategies center equity and document best practices in care coordination for minoritized communities (i.e., Black, Indigenous, Persons of Color, people that identify as Lesbian, Gay, Bisexual, Transgender and Queer, Asian American Pacific Islanders, people who are experiencing disabilities, and other minoritized groups). Including populations marginalized based on economic circumstances and other determinants of social inclusion.
ACPM and ACPM share project findings and lessons learned at ACPM's Preventive Medicine 2022 in Denver in June 2022. Final Request for Proposals:
Project Strategic Domains
Care coordination of COVID-19 testing, prevention, treatment10 (i.e., deliberately organizing patient care activities and sharing information among all participants concerned with a patient's care to achieve safer and more effective care).
Addressing social determinants of health (i.e., screening for and addressing the social needs of patients affected by COVID-19 and patients at increased/higher risk of developing COVID-19 due to marginalization, chronic illness, and the conditions they live in/work.
Collaborative data and knowledge management (i.e., data quality improvement strategies) include collection (e.g., tracking of demographic data such as race, ethnicity and gender identity), user-friendliness, reciprocity, and community data to reduce disparities within patient populations affected by COVID-19.
Developing/maintaining clinical-community linkages/partnerships with local public health partners, quality improvement organizations, community-based organizations, preventive medicine residency programs and prevention research centers to help inform interventions provided to patients disproportionally impacted by COVID-19.
Funded Sites
Following an independent and rigorous review process prioritizing equity and diversity, a prestigious group of subject matter experts from diverse organizations across the United States voted to fund fifteen (15) unique practices nationally.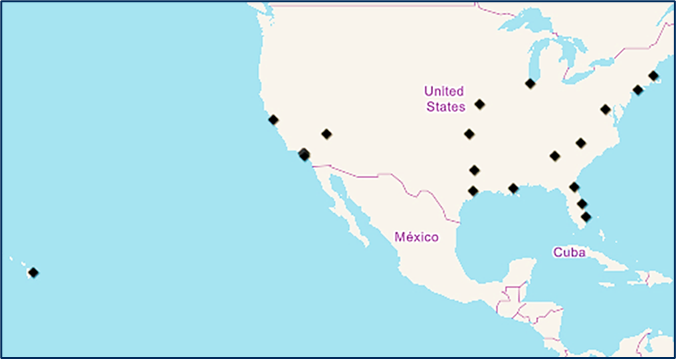 AltaMed Health Services Corporation (Calif.) – Domains 1, 2, and 4
Angel Kids PA (Fla.) – Domains 1, 2, 3, and 4
Boston Community Pediatrics (Mass.) – Domains 1, 2, and 4
Cook County Health (Ill.)
East Hawaii IPA Big Island Docs (Hawaii) – Domains 1, 2, and 4
Grady Health System (Ga.) – Domains 1, 2, and 4
Los Angeles LGBT Center (Cali.) – Domains 1, 2, and 3
MedsPLUS Consulting (Ala.) – Domains 1 and 4
North East Medical Services (Cali.) – Domains 1, 3, and 4
Southern Nevada Health District (Nev.) – Domains 1, 2, and 4
The Regents of the University of California (Cali.) – Domains 1, 3, and 4
The University of Texas Health Sciences at Tyler (Texas) – Domains 1, 2, and 4
Wellness and Equity Alliance (Texas) – Domains 1 and 2
Partner Organization
ACPM is proud to partner with the
American Medical Association Center for Health Equity
.
Administrative Contact
Program Manager, ACPM: Sarafina Cooper,
scooper@acpm.org
[Primary Contact]
Project Director, AMA: Crystal Sacaridiz,
crystal.sacaridiz@ama-assn.org


Disclaimer: This Request for Proposal is supported by the American College of Preventive Medicine through a cooperative agreement CDC-RFA-OT18-1802 with the Centers for Disease Control and Prevention of the U.S. Department of Health and Human Services (HHS). The contents are solely the responsibility of the author(s) and do not necessarily represent the official views of, nor an endorsement, by CDC/HHS, or the U.S. Government.
Resources