Introduction
2021 was another year for the record book. The environment, the climate, the politics and the pandemic certainly made for an interesting mix of dynamics in which to advance the ACPM mission. And prevail, we did! Despite the disruption, the ACPM team along with our amazing volunteers continued to advance, amplify and position ACPM for a very bright future. Staff settled into our new offices and returned to a modified telework schedule to build on the momentum and teamwork so critical to our success. We held a staff retreat and a Board retreat with our Regents and Chairs and Vice Chairs of our Committees to align the work and plans for 2022. We also engaged with our Prevention Alliance members who contributed in so many ways to advance our mission. So, as we prepare for the future, we also look back at the many successes we made in 2021 and share those with you here. Enjoy the journey of reflection with us.
Membership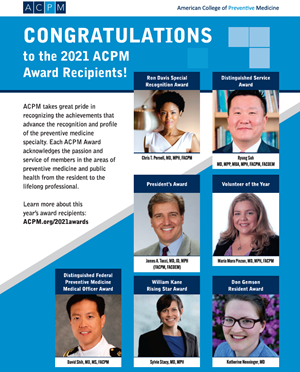 ACPM members are passionate about prevention and public health and work tirelessly to advance the mission of the College with a long-term vision for preventive medicine. Throughout the year, we recognized the achievements of members and preventive medicine leaders through the member spotlight feature in the American Journal of Preventive Medicine, the induction of 14 new Fellows of the College, honoring seven ACPM member award winners and hosting the inaugural Dr. Daniel S. Blumenthal lecture on health equity.
Achieving the credential of Fellow of ACPM is an honor bestowed upon qualified candidates by their peers on the ACPM Membership Committee. Fellowship (FACPM) recognizes these distinguished individuals for their service and engagement within the field of preventive medicine, and across the College. In 2021, ACPM honored 14 members as new Fellows: Ifeoma F. Achebe MD, MPH, MSc; Richard Bruno MD, MPH, FAAFP; Mary Carol Jennings MD, MPH; Simon Kapaj MD, MPH; James Keck MD, MPH; Katherine Lichtenberg DO, MPH; Ariane Marie-Mitchell MD, Ph.D., MPH; Alefiyah Mesiwala MD, MPH; Maria Mora-Pinzon MD, MPH; Antonio Neri MD, MPH, CAPT USPHS; Emilie Prot DO, MPH; Patrick Remington MD, MPH; Amy Rogers MD, MPH; and Prentiss Taylor MD, FACP.
The ACPM awards program honors members of the College and leaders in the field for excellence in service to preventive medicine and exceptional lifetime achievements. In 2021, ACPM recognized Chris T. Pernell, MD, MPH, FACPM (Ronald Davis Special Recognition Award), Ryung Suh, MD, MPP, MBA, MPH, FACPM, FACOEM (Distinguished Service Award), David Shih, MD, MS, FACPM (Distinguished Federal Preventive Medicine Medical Officer Award), Sylvie Stacy, MD, MPH (William Kane Rising Star Award), Katherine Nenninger, MD (Donald Gemson Resident Award), Maria Mora Pinzon, MD, MPH, FACPM (Volunteer of the Year Award) and James A. Tacci, MD, JD, MPH, FACPM, FACOEM (President's Award).
In October, ACPM was proud to host the inaugural Dr. Daniel S. Blumenthal Lecture and Award, created to honor the legacy of Dr. Blumenthal and his tireless work addressing the issues of structural racism, ethnic inequities and social injustice. Marcella Nunez-Smith, MD, MHS, Associate Dean for Health Equity Research at Yale School of Medicine and Co-chair of President Biden's COVID-19 Advisory Board and Health Equity Task Force was the inaugural recipient of this prestigious award. In addition to remarks by Dr. Nunez-Smith, the lecture also included remarks by Dr. Marjorie Speers and Dr. David Satcher and a reaction panel featuring Dr. Josh Sharfstein, Dr. Chris Pernell and Dr. Aletha Maybank and moderated by Dr. Reed Tuckson. Over 100 individuals joined virtually to enjoy the livestream of the event, with over 50 individuals who joined us in person at the National Press Club in Washington D.C.
Education
ACPM's educational portfolio expanded dramatically in 2021, offering enhanced learning opportunities for members and the wider physician and public health community. To augment its existing learning management system, ACPM created an additional 110.5 available CME offerings, and more than 6,200 CME were claimed. Further, ACPM implemented a monthly webinar series, holding one to three webinars per month on a variety of topics including colorectal cancer prevention, leadership skills, substance abuse prevention, using data and informatics to inform decision-making, nutrition and promoting healthy lifestyles, among others. ACPM launched a Board Review Course and "Ask the Experts" sessions to better prepare physicians to sit for the American Board of Preventive Medicine exam and administered an in-service exam taken by 395 physicians from 66 residency programs. Looking forward to 2022, ACPM will launch an updated Lifestyle Medicine Core Competency course in partnership with the American College of Lifestyle Medicine, a Ten Essential Public Health Services for Physicians course with a complimentary webinar series, and a Preventive Medicine Residency Directors toolkit.
Grants
ACPM substantially augmented its already robust grants portfolio this past year. ACPM continues to work on a CDC-funded cooperative agreement to build physician capacity to address population health, diabetes prevention and hypertension. Newly funded initiatives focus on combatting COVID-19 among minoritized populations in partnership with the American Medical Association's Center for Health Equity, promoting HIV screening and treatment and developing a strategic roadmap to ensure colorectal cancer screening among individuals aged 45-to 49-years. In addition, ACPM is partnering with the Veterans Administration on two projects: a Military Environmental Exposure certificate program and a Joint Incentive Fund partnership to develop cardiovascular disease mitigation content in the VA Virtual Medical Center. Looking forward to 2022, ACPM will continue to implement and evaluate the effectiveness of these grants and seek additional opportunities to advance its mission to prevent chronic and infectious diseases as well as injury and violence.
Vaccine Confident
With the approval and deployment of highly effective vaccines for COVID-19, ACPM had an important role to play as a resource for both physicians and the public on accurate, science and evidence-based information on vaccines. Throughout the pandemic, ACPM worked to elevate trusted voices of preventive medicine physicians and empower our members to be leaders in the critical public health work of vaccinating America.
ACPM had the privilege of working with the Centers for Disease Control and Prevention (CDC) to amplify our Vaccine Confident campaign. Working to highlight the superheroes that are preventive medicine physicians, ACPM recruited 20 Vaccine Confident Ambassadors from among our membership, spanning the nation. We worked closely with each ambassador to develop individualized outreach plans, positioning the ambassadors with the media and their local community as expert resources on vaccination – advancing a message of confidence in the safety and efficacy of vaccines for COVID-19 and other preventable diseases. In addition to the ambassador program, ACPM also launched a national PSA, and a national satellite media tour spreading the message of vaccine confidence. As the environment shifted with the introduction of pediatric vaccinations, booster shots and new variants, ACPM remains vigilant with the Vaccine Confident Ambassadors to adapt and evolve the campaign to meet the moment.
Efforts to overcome vaccine hesitancy continue and the campaign has been gaining momentum. The intermediate results have been stellar. To date, ACPM has secured more than 90 media placements and more than 550 million impressions across local and national media outreach, with the PSA airing more than 500 times across top national broadcast programs. As of December 31, more than 200 million people in the United States have been fully vaccinated against COVID-19.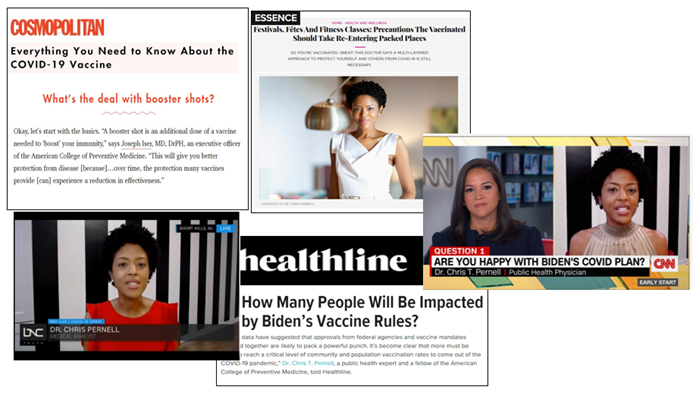 Evolving Communications Activities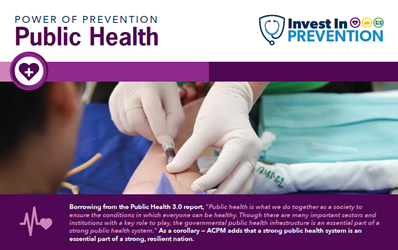 ACPM evolved and renewed aspects of our Power of Prevention Campaign with PoP 2.0 to highlight the impact of preventive medicine in key areas of health and health care – society, public health, and health financing systems. ACPM members authored four manuscripts for publication in the American Journal of Preventive Medicine in 2022, focusing on the unique role of preventive medicine in these domains.
We have continued to grow our communication channels to tell the story of preventive medicine: major content refreshes to the website, improved social media tools and engagement, new communications analytics tools and more. This led to impressive growth in the ACPM audience, including a 9% increase in unique users. ACPM was also awarded a Google non-profit grant, further augmenting our outreach efforts in 2021 and beyond.
Advancing Preventive Medicine Advocacy
For the first time in more than 10 years, the federal funding line item for preventive medicine residency programs in the Health Resources and Services Administration budget received an increase in both the President's proposed 2022 budget and the House of Representatives appropriations bill. This is a significant step in the path toward sufficient and sustainable funding for the pipeline of the profession. This could not have been achieved without the engagement of ACPM members, more than 50 of whom met with their Congressional representatives to advocate for the funding increase. ACPM also conducted member-led advocacy training sessions and continued our collaboration with our government affairs agency partners to build the foundation for future advocacy action. Our drumbeat for more funding will continue and we look forward to having all members engaged in this important advocacy effort throughout the new year.
Preventive Medicine 2021
For the second year in a row, our annual meeting, Preventive Medicine, was conducted virtually. While we miss in person connections with colleagues and friends, we are proud of the strong virtual program with 32 sessions, 129 speakers and 39 poster presentations.
Featured sessions in the 2021 theme of resilience included the 2021 KBS Lecture, delivered by Dr. Aletha Maybank, Chief Health Equity Officer of the American Medical Association, a session on Climate Change Resilience, Building Vaccine Confidence, Building Resilience Through Physician Leadership and more.
More than 450 attendees joined us online in 2021, and we are looking forward to seeing many more members and extended community at the Preventive Medicine 2022 meeting in Denver.