Member Awards
The American College of Preventive Medicine awards program honors members of the College and leaders in the field for excellence in service to preventive medicine and exceptional lifetime achievements.
ACPM takes great pride in recognizing the achievements that advance the recognition and profile of the preventive medicine specialty. The six ACPM awards acknowledge the passion of both members and nonmembers in the areas of preventive medicine and public health from the resident.
The nomination period for 2022 is now open! Nominate a peer or colleague for one of ACPM's annual awards today. The nomination period will close March 31.
Awards and Winners
Ronald Davis Special Recognition Award
The Ronald Davis Special Recognition Award honors outstanding achievements or contributions to the preventive medicine specialty. Recipients are not required to work in preventive medicine, but must be recognized as important contributors to the specialty.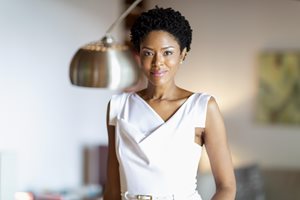 Chris T. Pernell, MD, MPH, FACPM
Chris T. Pernell, MD, MPH, FACPM, is a dynamic physician leader and social change agent. In her public health practice, her focus is health justice, community-based advocacy, and population-wide health promotion and disease prevention. Recently, she joined University Hospital in Newark, New Jersey as the first-ever Chief Strategic Integration and Health Equity Officer. She oversees a portfolio which includes population health, strategic planning, community affairs and the human experience.
Dr. Pernell was named a 2020 Public Health Hero by NJBiz. She has leveraged her lived experience and expertise as a public health physician and health equity champion as a contributor across television, radio and print media and regularly speaks at professional symposia and public forums on topics in the public interest.
Dr. Pernell received a bachelor's degree in Psychology (Neuroscience) from Princeton University, Doctor of Medicine from the Duke University School of Medicine and Master of Public Health from the Columbia Mailman School of Public Health. She completed the Johns Hopkins Bloomberg School of Public Health General Preventive Medicine Residency, is a fellow of ACPM and holds an appointment as a Clinical Assistant Professor at the Rutgers New Jersey Medical School
Distinguished Service Award
The Distinguished Service Award recognizes a Fellow or member for outstanding service to the American College of Preventive Medicine.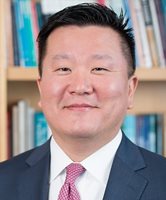 Ryung Suh, MD, MPP, MBA, MPH, FACPM, FACOEM
Ryung Suh, MD, MPP, MBA, MPH, FACPM, FACOEM, serves as Associate Professor and past Chair in the Department of Health Systems Administration at Georgetown University and as the Chief Executive Officer of Atlas Research, a middle-market health care management consultancy. He previously served as a Senior Fellow for the National Opinion Research Center (NORC) at the University of Chicago, as a practice leader for a commercial life sciences consulting company, and as an infantry and medical corps officer in the U.S. Army with a diverse set of operational, special operations and military health system responsibilities. Dr. Suh graduated from the United States Military Academy and completed his medical, public policy and management studies at Georgetown University, with additional studies at the Uniformed Services University of the Health Sciences, Yonsei University School of International Studies and Trinity College, Oxford University. He is a combat veteran who has deployed to multiple overseas locations to include service as Task Force Surgeon during Operation Enduring Freedom in Afghanistan, where he was awarded the Bronze Star Medal. His military qualifications include airborne, ranger, jumpmaster and flight surgeon.
Distinguished Federal Preventive Medicine Medical Officer Award
The Distinguished Federal Preventive Medicine Medical Officer Award recognizes a physician who, while in federal service, has distinguished themselves and the profession through their contributions to one or more of the fields of preventive medicine, resulting in significant and enduring improvements in the health of the population they serves.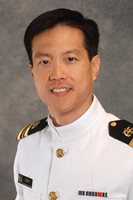 David Shih, MD, MS, FACPM
David Shih, MD, MS, FACPM, completed his medicine internship at MetroHealth Medical Center in Cleveland and preventive medicine residency at the University of Maryland, where he earned a Master's degree in epidemiology and preventive medicine. He began his federal career as a civil servant at the Food and Drug Administration as a drug safety epidemiologist in 2010, then Commissioned as a Lieutenant Commander in the U.S. Public Health Service Commissioned Corps in 2013. The next year he deployed to Liberia to care for suspect, probable and confirmed Ebola patients in the Monrovia Medical Unit, the U.S. government's only Ebola treatment unit in West Africa at the time. In 2016, he joined the Epidemic Intelligence Service, assigned to the Oregon Health Authority's Acute and Communicable Disease Prevention Section. There, he led a successful effort to develop a Council of State and Territorial Epidemiologists surveillance case definition for nontuberculous Mycobacterial infection. In 2018, he began work at the Defense Health Agency as Chief Medical Officer for Population Health. He now serves as a medical epidemiologist at CDC's Division of Global Health Protection, helping foreign Ministries of Health to develop acute febrile illness surveillance systems.
William Kane Rising Star Award
The William Kane Rising Star Award honors an ACPM member within seven years of the completion of residency training and who is certified by the American Board of Preventive Medicine. Recipients possess a strong commitment to preventive medicine and demonstrate the potential to offer significant contributions to the field.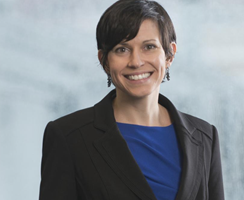 Sylvie Stacy, MD, MPH
Sylvie Stacy received her MD from the University of Massachusetts Medical School and MPH from Johns Hopkins Bloomberg School of Public Health. She is board certified in both general preventive medicine and addiction medicine. Her clinical practice is concentrated in correctional medicine and outpatient addiction medicine. She also enjoys using her preventive medicine skill set for work in utilization management and medical writing. She has served as ACPM's liaison to the National Commission on Correctional Health Care (NCCHC) Board of Directors since 2016 and is NCCHC's liaison to the CDC's Advisory Council for the Elimination of Tuberculosis. She is active in efforts to improve the health of her local community, currently serving on her county's Board of Health. Inspired by the breadth of professional opportunities that she has encountered as a preventive medicine specialist, she authored the book 50 Nonclinical Careers for Physicians, which was released in May 2020.
Donald Gemson Resident Award
The Donald Gemson Resident Award honors a resident member of ACPM, in any year of training, for outstanding achievement in community service, scholarship, research, teaching and overall leadership.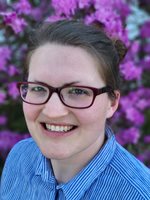 Katherine Nenninger, MD
Katherine Nenninger, MD, grew up in northern New York, attended the College of William and Mary, and then completed medical school at the University of Virginia followed by an internal medicine residency at Maine Medical Center. She discovered and was inspired by the field of preventive medicine through electives at public health departments and rotations at population health clinics. Following her internal medicine residency, she decided to stay at Maine Medical Center to join the "Leadership in Preventive Medicine" fellowship program. Her areas of focus have been community infection prevention of STIs and injection-related infections, and, during the COVID-19 pandemic, respiratory virus transmission prevention at homeless shelters. Working with mentors and collaborators in the public health and social services sectors to keep shelter residents safe has been transformative, and has informed Katherine's current career goals to strengthen connections and communications between the health care system, public health system and community organizations. In the future she hopes to focus clinically on infectious disease prevention and to better understand how health care utilization and social services engagement interact with infections and infection prevention opportunities.
Volunteer of the Year Award
The Volunteer of the Year Award recognizes a fellow or member for outstanding voluntary service to the American College of Preventive Medicine.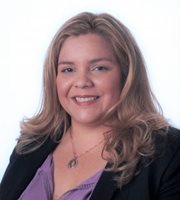 Maria Mora Pinzon, MD, MPH, FACPM
Mora Pinzon, MD, MPH, FACPM, is board certified in preventive medicine and public health and is currently a research fellow at the University of Wisconsin-Madison Department of Family Medicine and Community Health as well as a scientist with the Wisconsin Alzheimer's Institute. She received her doctor of medicine from the Universidad Central de Venezuela - Escuela Jose Maria Vargas, a masters degree in clinical research from Rush University in Chicago and completed residency at the University of Wisconsin-Madison in 2017. She holds a leadership position on the Membership Committee in the American College of Preventive Medicine (ACPM), co-founded the Twitter community #LatinasInMedicine and is a member of Health Policy Professional Interest Area of The Alzheimer's Association International Society to Advance Alzheimer's Research and Treatment (ISTAART). She is working in the intersection of health equity and implementation science in communities of color, particularly in topics affecting older adults such as injuries, fall prevention, management of chronic diseases and dementias. She was selected as the 2018 Young Physician of the year by the National Hispanic Medical Association, 2020 William Kane Rising Star Award from ACPM and, more recently, was named by Medscape as one of the 25 Rising Stars in Medicine.
President's Award
The President's Award honors a member of ACPM in an area designated by the current ACPM President. The recipient of this award will be recognized for outstanding activities in service (including policy development), research, and/or education that make contributions to the promotion of prevention.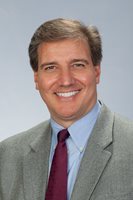 James A. Tacci, MD, JD, MPH (FACPM, FACOEM)
James A Tacci, MD, JD, MPH, FACPM, FACOEM, is the Medical Director and Executive Medical Policy Director for the New York State Workers' Compensation Board. He holds a part-time teaching and clinical appointment at the University of Rochester Medical Center, where he serves as the Program Director for the Preventive Medicine Residency and Medical Director of the Travel Medicine Program. He is also an Attorney of Counsel at the law firm of Barclay Damon, LLP.
Dr. Tacci is board certified in Public Health & General Preventive Medicine, as well as Occupational Medicine. He is a past President of the American College of Occupational & Environmental Medicine (ACOEM) and he has served on the governing boards of ACOEM, ACPM, the American Journal of Preventive Medicine and the Occupational & Environmental Health Foundation. Dr. Tacci is a former Chair of the AMA Preventive Medicine Section Council and former member of the Monroe County (NY) Board of Health.
Dr. Tacci received his B.S. from Cornell University, M.D. with distinction from the University of Rochester and J.D. magna cum laude from the Syracuse University College of Law. He completed residency training in General Preventive Medicine and Public Health at the New York State Department of Health, and residency and research fellowship training in Occupational and Environmental Medicine at Harvard University.